IPAX Asia Pacific
25/05/2017 @ 9:00 am

-

26/05/2017 @ 3:30 pm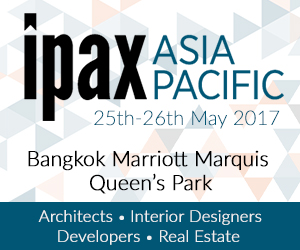 Meet the world's leading property experts

The natural evolution of the globally successful International Property Awards Summits, IPAX Asia Pacific is an exhibition and networking summit that attracts the finest companies and individuals from across the fields of architecture, property development, interior design, real estate and beyond.
The show is a full business-to-business networking environment for all sectors of the property and real estate industry.
The event gives all attendees the opportunity to showcase themselves to some of the finest companies to make connections, form alliances and generate new business.
Connect with the region's leading companies

IPAX Asia Pacific combines the presentations of the world-renowned Asia Pacific Property Awards and Asia Pacific Hotel Awards with a full business event designed to connect property companies from different disciplines within the industry, generating sales and association opportunities.
IPAX is a complete platform for business professionals in the property industry to meet, network, learn and connect with each other.
www.propertyawards.net
Website : http://www.ipaxglobal.com/asia-pacific/